The Western Oriel Of Lincolns Inn New Buildings,
The western oriel of Lincoln's Inn New Buildings, 1845. One of two oriels at the extremities of the dais in the Great Hall at Lincoln's Inn, one of the Inns of Court at Holborn in London. The new complex was designed by Philip Hardwick. The window is decorated with stained-glass coats of arms: 'The new painted and stained glass throughout the building has been executed for the Society by Mr. [Thomas] Willement; and the whole of the arms, ancient and modern, have been arranged by Mr. Ralph W. E. Forster, who has nearly completed a history of the Society and a Descriptive Account of the Inn. Mr. Forster's grouping of the arms in the Western Oriel in the Hall is very felicitous; comprising, as it does, the arm3 of the Royal Members of the Society; of the noble founder of the Inn; of the original possessors of the site; and of the Society'. From "Illustrated London News", 1845, Vol VII. Artist Unknown. (Photo by The Print Collector/Heritage Images via Getty Images)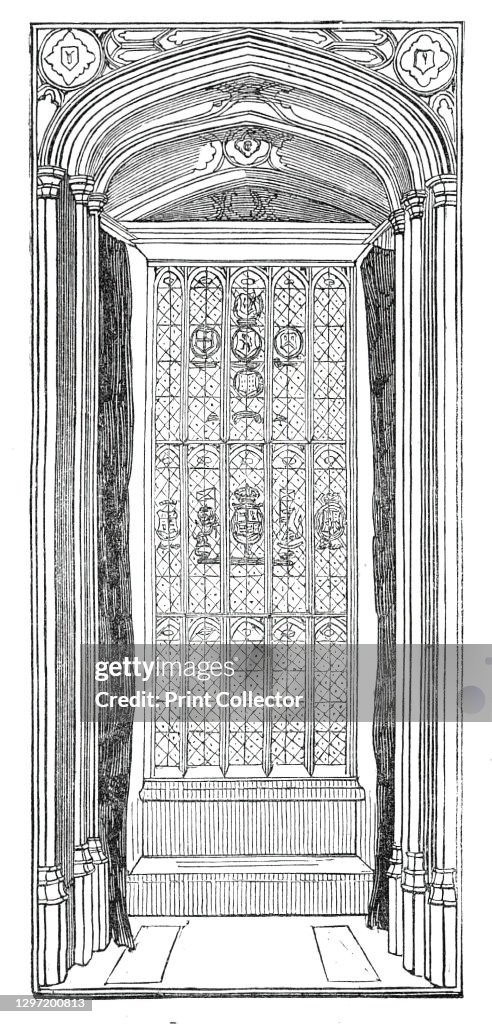 ¿Cómo puedo usar esta imagen?
Ten en cuenta lo siguiente: las imágenes que representan eventos históricos pueden contener temas, o tener descripciones, que no reflejan la comprensión actual. Se proporcionan en un contexto histórico. Más información.
DETALLES
Restricciones:
Póngase en contacto con su oficina local para conocer todos los usos con fines comerciales o promocionales.
Fecha de creación:
01 de enero de 1845
Nombre del objeto:
2798896
Tamaño máx. archivo:
2382 x 4960 px (20,17 x 41,99 cm) - 300 dpi - 8 MB