Royal Wedding Comparison - Engagement Photos
FILE PHOTO) In this photo composite image a comparison has been made between the engagement announcements of Prince Charles, Prince of Wales and Lady Diana Spencer and Prince William to Catherine Middleton.(Left Image) LONDON, UNITED KINGDOM - FEBRUARY 24: Prince Charles Arm-in-arm With His Fiance, Lady Diana Spencer, On The Steps Of Buckingham Palace For A Photocall On The Day They Announced Their Engagement. (Photo by Tim Graham Photo Library via Getty Images) (Right Image) LONDON, ENGLAND - NOVEMBER 16: Prince William and Kate Middleton pose for photographs in the State Apartments of St James Palace on November 16, 2010 in London, England. After much speculation, Clarence House today announced the engagement of Prince William to Kate Middleton. The couple will get married in either the Spring or Summer of next year and continue to live in North Wales while Prince William works as an air sea rescue pilot for the RAF. The couple became engaged during a recent holiday in Kenya having been together for eight years. (Photo by Chris Jackson/Getty Images)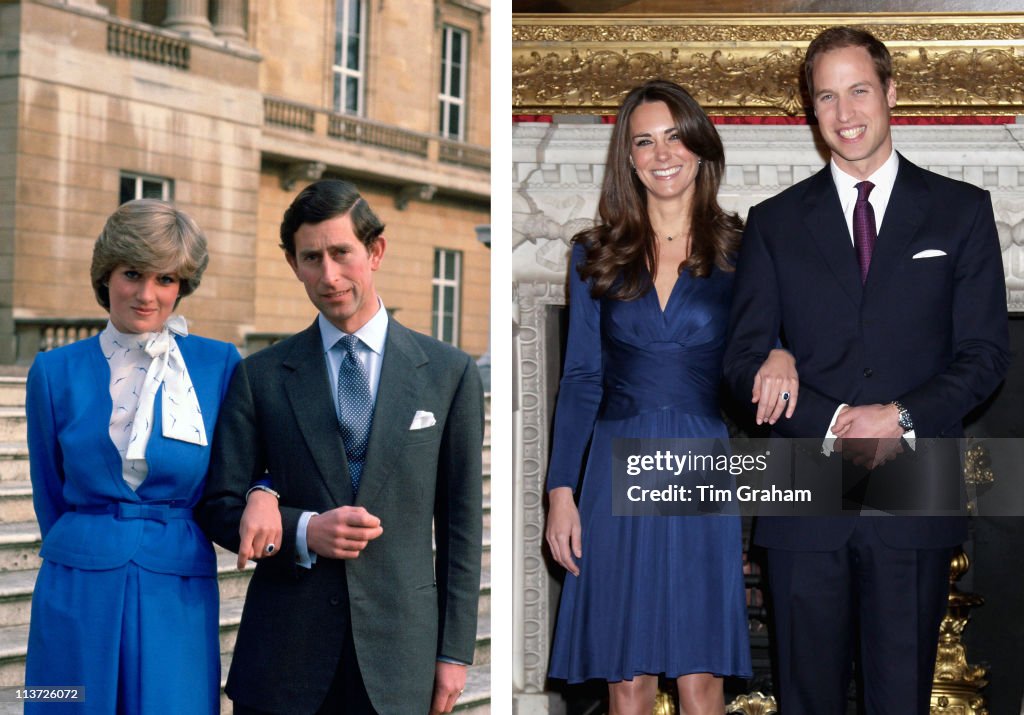 ¿Cómo puedo usar esta imagen?
DETALLES
Restricciones:
Póngase en contacto con su oficina local para conocer todos los usos con fines comerciales o promocionales.
(FILE PHOTO) In this photo composite image a comparison has been made between the engagement announcements of Prince Charles, Prince of Wales and Lady Diana Spencer and Prince William to Catherine Middleton.Getty Images site ids: 106918093 and 106918093.
Colección:
Tim Graham Photo Library
Fecha de creación:
24 de febrero de 1981
Fuente:
Tim Graham Photo Library
Nombre del objeto:
64576499